IN ARRIVO IL 29/01/2020
Dettagli

Pubblicato: Martedì, 28 Gennaio 2020 18:41
Scritto da Bruno
Visite: 243
Di seguito trovi l'elenco delle novità in uscita questa settimana.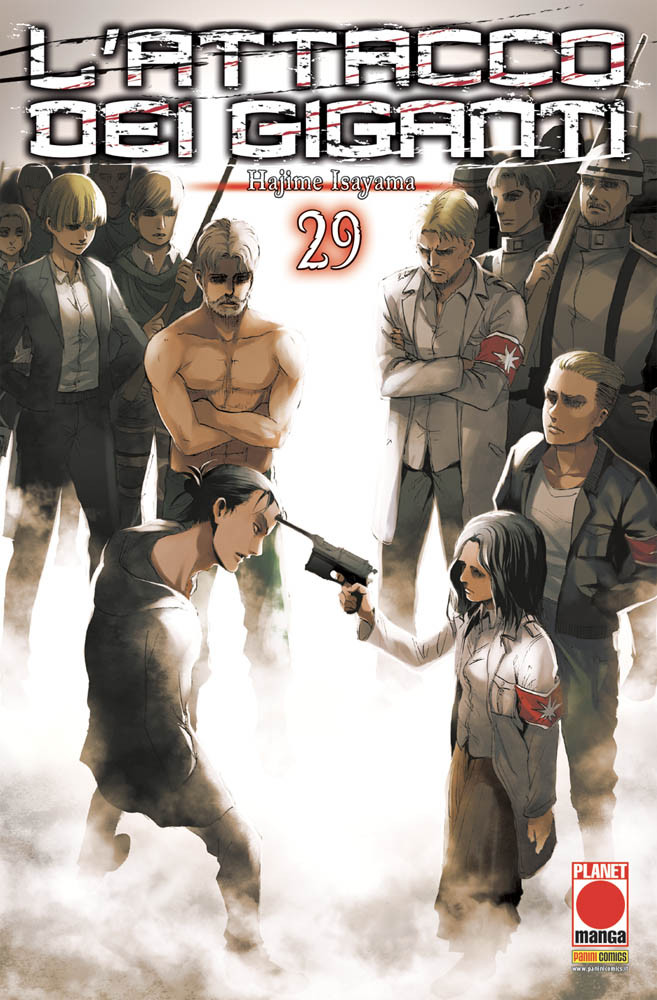 Noi ti segnaliamo:
L'ATTACCO DEI GIGANTI 29
DRAGON BALL SUPER 10
YONA LA PRINCIPESSA SCARLATTA 12
ESCAPE JOURNEY 1
LA REGINA D'EGITTO 1
JACKASS!
THE LEGEND OF ZELDA TWILIGHT PRINCESS 7
BOWIE
Continua a leggere per scoprire tutte le novità.
MARVEL ITALIA / PANINI COMICS
RENATO JONES STAGIONE 2 - IL FREELANCE
STAR WARS - L'ETA' DELLA RESISTENZA - EROI
2099 COLLECTION SPIDER-MAN 1
BOWIE
CAPTAIN MARVEL 10
CESTUS 9 SECONDA SERIE
CONAN IL BARBARO 6
DARTH VADER 54
DEADPOOL 149 - DEADPOOL 30
GLI INCREDIBILI X-MEN 361 - HOUSE OF X 6
GUARDIANI DELLA GALASSIA (2019) 7
MARVEL INTEGRALE SPIDER-MAN DI TODD MCFARLANE 2
MARVELS EPILOGUE
SAVAGE AVENGERS 4
SPIDER-MAN 739
SUPERIOR SPIDER-MAN 2
TESTA DI MORTE
PLANET MANGA

AMARSI LASCIARSI 12
IO E MR. FAHRENEHEIT - SHE LIKES HOMO, NOT ME
L'ATTACCO DEI GIGANTI 29
LE NUOVE AVVENTURE DI SHIKAMARU
SERAPH OF THE END GUREN ICHINOSE CATASTROPHE AT SIXTEEN 4
SISTER & VAMPIRE 7
EDIZIONI STAR COMICS

DRAGON BALL FULL COLOR 25
DRAGON BALL SUPER 10
I DIPINTI MALEDETTI 5
IO SONO SHINGO 4
L'EMBLEMA DI ROTO II GLI EREDI DELL`EMBLEMA 13
PERFECT WORLD 5
YONA LA PRINCIPESSA SCARLATTA 12
JPOP

DANMACHI SWORD ORATORIA 10
JACKASS!
ESCAPE JOURNEY 1
TORADORA! 9
THE LEGEND OF ZELDA TWILIGHT PRINCESS 7
LA REGINA D'EGITTO 1
SERGIO BONELLI EDITORE

MORGAN LOST NIGHT NOVELS 3
TEX WILLER 14
LE STRISCE DI ZAGOR SECONDA SERIE 6
SALDAPRESS
INVINCIBLE COFANETTO VARIANT - BIANCO

INVINCIBLE 73
BOX DRAFT BOOSTER - THEROS BEYOND DEATH (36 BUSTE) - ITA

BOX PLANESWALKER DECK - THEROS BEYOND DEATH (6 MAZZI) - ITA
AUREA BOOKS AND COMIX

GLI INTEGRALI BD NUOVA SERIE: HAMMERFALL 1 DI 2