IN ARRIVO IL 16/03/2022
Dettagli

Pubblicato: Martedì, 15 Marzo 2022 15:28
Scritto da Bruno
Visite: 208
Di seguito trovi l'elenco delle novità in uscita questa settimana.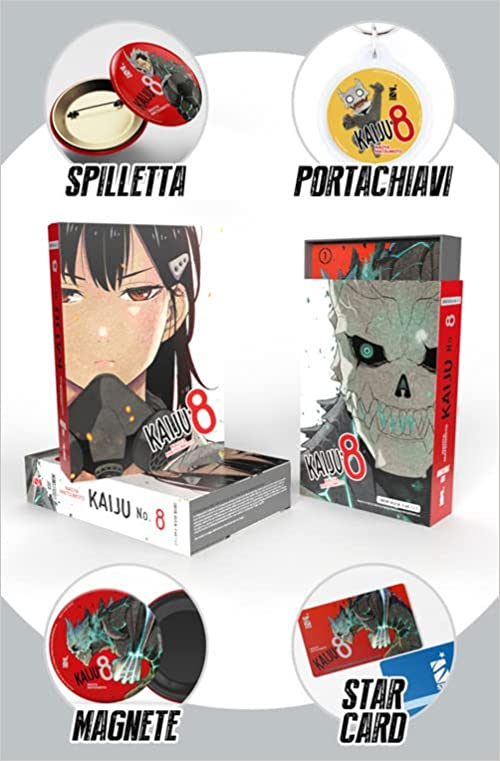 Noi ti segnaliamo:
KAIJU NO.8 - MONSTROUS BOX
NON TORMENTARMI, NAGATORO! 6
DRAGON QUEST - THE ADVENTURE OF DAI 5
MY GENDERLESS BOYFRIEND 3
DETECTIVE CONAN NEW EDITION 14
BJ ALEX BOX 3 (5-6)
ZOMBIE 100 - 7
SHAMAN KING FINAL EDITION 24
Continua a leggere per scoprire tutte le novità.
PANINI COMICS
ANTEPRIMA 367
RAT-MAN GIGANTE 97
MARVEL MINISERIE 256- INFERNO 4
MARVEL INTEGRALE - X-MEN DI CHRIS CLAREMONT 39
BATMAN 43
STAR WARS 13- STAR WARS NUOVA SERIE 81
CAPITAN AMERICA BRUBAKER COLLECTION ANNIVERSARY VOL.8
CAPITAN AMERICA BRUBAKER COLLECTION ANNIVERSARY VOL.9
AVENGERS 41 - AVENGERS 145
DARKHOLD - L'ALBA DI CHTHON
ASTERIX COLLECTION VOL.22 - ASTERIX E L'INDOVINO
VENOM 2 - VENOM 60
THOR 20 - THOR 273
MIRACULOUS - LE AVVENTURE DI LADYBUG E CHAT NOIR MAGAZINE 48
MILES MORALES: SPIDER-MAN 19
JOKER 5
IRON MAN 16 - IRON MAN 105
HULK 2
FANTASTICI QUATTRO 40
DC CROSSOVER 15 - INFINITE FRONTIER 1
CROSSED DELUXE VOL.2
CAPITAN AMERICA/IRON MAN 1 - CAPITAN AMERICA 144
BATMAN/CATWOMAN 9
MARVEL - LA NASCITA DI ULTRAMAN
PAPERINIK APPGRADE 63
MARVEL MASTERWORKS - I DIFENSORI 7
EDIZIONI STAR COMICS
MY GENDERLESS BOYFRIEND 3
DRAGON QUEST - THE ADVENTURE OF DAI 5
DETECTIVE CONAN NEW EDITION 14
KAIJU NO.8 - MONSTROUS BOX
UCHU KYODAI FRATELLI NELLO SPAZIO 39
THE ANCIENT MAGUS BRIDE 15
SHIRAYUKI DAI CAPELLI ROSSI 12
SHAMAN KING FINAL EDITION 24
ONE PIECE NEW EDITION 92
JOJOLION 26
CONAN IL CIMMERO - L'ORA DEL DRAGONE
JPOP
BJ ALEX BOX 3 (5-6)
ZOMBIE 100 - 7
NON TORMENTARMI, NAGATORO! 6
BLACK JACK (JPOP) 6
SERGIO BONELLI EDITORE
DAMPYR - I CLASSICI DEL TERRORE
TEX CLASSIC 131 - LA MORTE SI STRINSE
TEX 736 - LE FRECCE DEI NEMIC
LE STORIE 113 - UN RAGAZZO NEL FAR WES
DRAGONERO IL RIBELLE 29 - DRAGONERO 106 - IL LURESINDO
MARTIN MYSTERE 385 - L'OMBRA DI MICHELANGELO
SALDAPRESS
FEAR AGENT 2
THE WALKING DEAD COLOR EDITION 4 - VERSIONE ORIGINALE CON SLIPCASE
THE WALKING DEAD COLOR EDITION 13
GODZILLA 17 - REGULAR
001 EDIZIONI
MAGIC PRESS
ITRATTAMI CON DOLCEZZA 10
LA PRINCIPESSA SACRIFICALE E IL RE DELLE BESTIE 4
SKIP BEAT VOL.12