IN ARRIVO IL 14/12/2022
Dettagli

Pubblicato: Mercoledì, 14 Dicembre 2022 15:16
Scritto da Bruno
Visite: 112
Di seguito trovi l'elenco delle novità in uscita questa settimana.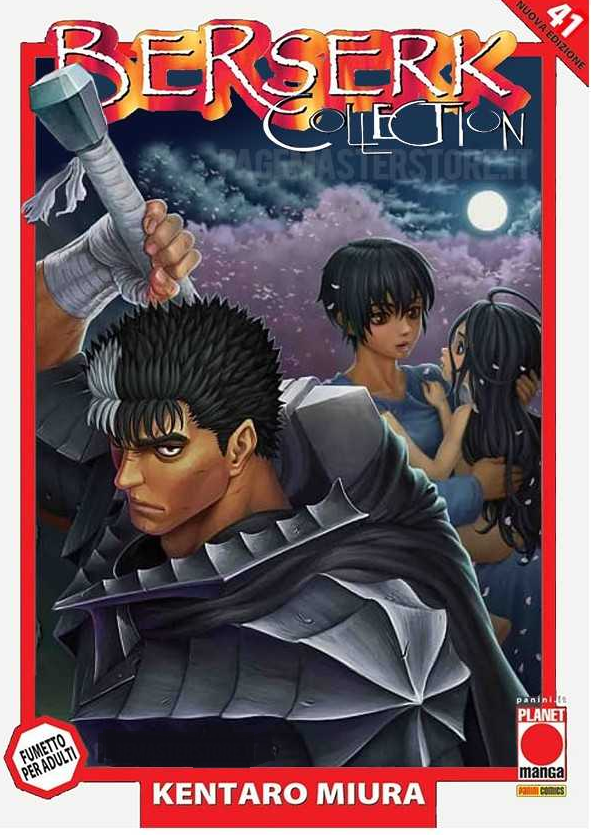 Noi ti segnaliamo:
BERSERK COLLECTION 41
ALICE IN BORDERLAND 6
BOY'S ABYSS 4
BLUE LOCK 17
BERSERK 82
DEMON SLAVE 6
LA PROFESSORESSA MENTE VOL.1
NOAH OF THE BLOOD SEA VOL.3
A TE CHE CONOSCI L'AZZURRO DEL CIELO - HER BLUE SKY 4
Continua a leggere per scoprire tutte le novità.
PANINI COMICS
AMAZING SPIDER-MAN (2020) 11 - ULTIMI RESTI
BATMAN: BEYOND FLASHPOINT 1
BATMAN: KILLING TIME VOL.4
CAPITAN MARVEL VOL.3 - L'ULTIMA DEGLI AVENGERS
I NUOVI MUTANTI - MASSACRO MUTANTE
IMMORTAL X-MEN VOL.6
IRON FIST - LA SPADA IN FRANTUMI
JUSTICE LEAGUE 31
A.X.E. JUDGMENT DAY VOL.2
MARVEL MUST HAVE - AGE OF ULTRON
MARVEL MUST HAVE - SECRET WARS
MARVEL OMNIBUS - PUNISHER DI GARTH ENNIS VOL.3
NIGHT-MAN VOL.4 (DI 6)
NIGHTWING VOL.3: CACCIA A GRAYSON - DC SPECIAL
SILK - L'ERA DELLA STREGA
STAR WARS: CACCIATORI DI TAGLIE VOL.4 - REGNO CREMISI
SUPERMAN 43
TOP 10
VENOM - PROTETTORE LETALE: DEMONI OCCULTI
WOLVERINE 27 - WOLVERINE 431
X-MEN 15 - GLI INCREDIBILI X-MEN 396
PLANET MANGA
BERSERK 82
BERSERK COLLECTION 41
BLUE LOCK 17
BOY'S ABYSS 4
DEMON SLAVE 6
EXCUSE ME, DENTIST VOL.3
GANTZ: E VOL.4
LA PROFESSORESSA MENTE VOL.1
EDIZIONI STAR COMICS
VANISHING MY FIRST LOVE VOL.2
ONE PIECE NEW EDITION 96
NOAH OF THE BLOOD SEA VOL.3
CHILDREN OF THE WHALES 21
A TE CHE CONOSCI L'AZZURRO DEL CIELO - HER BLUE SKY 4
UCHU KYODAI FRATELLI NELLO SPAZIO 40
DRAGON BALL ULTIMATE EDITION 8 (DI 34)
DETECTIVE CONAN NEW EDITION 30
BOYS RUN THE RIOT 4
JPOP
UNDER NINJA 6
BLUE GIANT 4
L'IMPERO DELLE OTOME 15
I QUATTRO FRATELLI YUZUKI VOL.4
ATOM THE BEGINNING 14
ALICE IN BORDERLAND 6
SERGIO BONELLI EDITORE
DRAGONERO - MONDO OSCURO VOL.2 - UN GRIDO DAL PROFONDO
LE STORIE 122 - L'OMBRA DELLA FORCA
SENZANIMA 10 - GHIACCIO
COSMO
FANTASCIENZA COSMO 8 - TELETRASPORTO INC.